Kio -Diagnosed 2001 with Anaplastic Astrocytoma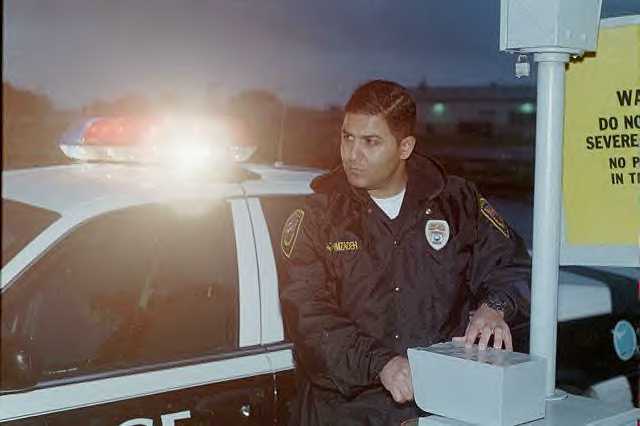 "I was guided by something the whole way."

On Jan. 4th of 2001, I suffered a full grand mall
Seizure which led to finding a brain
Tumor in my right
Temporal Lobe. Prior to the seizure I experienced small headaches when I was waking up, 2-3 times per month for almost two years. My doctor did nothing about it. I was 30 at the time, just starting to advance in my career as a Police Officer, with almost five years on. I was devastated. My only option was surgery. I was told that I had to have it immediately. I went to UCLA, went to two doctors there. A memory test went bad, which led the second doctor to believe that he could only remove 50-60% of the tumor, and I would have to have treatment for the rest of my life. I decided to get a third opinion. My family and friends all did some research, and came up with one name, Dr. Keith Black. I went to Cedars Sinai, and met with Dr. Keith Black. His knowledge, grace, and confidence made my decision easy. I chose to have my surgery done by Dr. Black. I'm still thankful I did today. I was guided by something the whole way. His golden hands are why I'm at where I'm at today. I later found out that the reason my memory test went bad at UCLA was because I was over-sedated.
Feb. 6th 2001, I had surgery with Dr. Black. I was released from the hospital two days later. The tumor was completely removed without causing any injury or damage. A week later the final biopsy came back on the tumor. It was a grade 3
anaplastic astrocytoma. Not what I had hoped for. On the scans it looked
benign. My options were radiation, then
Chemotherapy. I just wanted to get back to my life and career. I knew it was going to be a rough road. I was later told that most people with my type of tumor don't survive. I decided to prove them wrong. I'm kind of stubborn like that.
Beginning two weeks after surgery I had almost seven weeks of daily radiation therapy which was the worst part of the whole experience. There were days when I would go to radiation and come home doing nothing else but eating, sleeping and resting for the next day. I looked forward to the weekends because there was no radiation. I finished radiation in April, 2001. I was advised that chemotherapy would be a very wise decision in my case. I am a gambler, but didn't want to roll the dice on this one.
I went to a local oncologist who told me that traditional chemotherapy, IV injections, was all that was available for me. He said that it would only have a 50-50% chance of working for a brain tumor. This obviously caused great concern for me. Why would I want to get sicker if there was only a 50-50% chance of it being successful? He told me that if I were his son, he would refer me back to UCLA for the post care. I sincerely thank Dr. Reynolds for his honesty and integrity. I listened to his advice and went to Dr. Tim Cloughesy at UCLA. Dr. Cloughesy informed me of a new type of chemotherapy (pill form) that was out called Temodar, which was brain specific, and FDA approved since 1999. I didn't hesitate. Twelve months of chemotherapy (Temodar) started in July of 2001 with monthly
MRI scans and doctors visits. Again I was guided by something, angels I presume.
Sometime around October 2001 my doctor said I was doing so well that I convinced him to let me go back to work part time, doing desk work. For me it was heaven to just be back to my career, even if it was part time. I was bored as well, as my family lives in LA and the only other thing that kept me occupied at the time was doing light weight lifting, playing basketball, or walking my dog just to get out of the house. My family, friends, and second family at the Oxnard Police Department were there with me the whole way. Being around such good people inspired me to get back to my normal life as soon as possible.
Jan. 2002 I was ready to get back in the saddle. I went back to work full-time on patrol. Doctors said to do anything that was therapeutic and makes me happy. Keeping the brain happy and positive was the prescription. Being a Police Officer was what made me happy, and being on the sidelines for almost a year was tough to swallow. As soon as I went back I resumed my position as a Training Officer. My supervisors and peers saw that I was still the same Kio not lacking in my performance or skills. With the remaining cycles of chemotherapy I took about one week per month off from work for the treatments until I was done. I didn't want to be sidelined any longer. I went back to work with vigor taking criminals off the streets to make up for lost time.
In June of 2002, while I was on duty in uniform, I ran into the doctor that had told me I wasn't going to live. He had last seen me in April 2001. After I picked his jaw up from the ground, he told me that I was a "walking miracle", as I showed off the one inch of muscle that I had regained on my arms. You can go to the best doctors and have the most advanced treatments and medicine, but the rest falls on you.
Where's your heart, where do you want to be?
I chose to fulfill my goals, remain in my career, and impress my family and friends. I chose to live.
My story was filmed up until the end of radiation and has been airing on Discovery Health. I want people in my situation, or any other life threatening situation to know that:

YOU CAN CONTROL YOUR OWN DESTINY
Be strong, be positive, be active, never quit, keep the faith, and always remember that someone else has it worse than you do.
I've followed these ideals, and I'm now an 8 year Survivor as of January 4, 2009.

Godspeed

Kio Ebrahimzadeh

Simi Valley, CA
You can contact Kio by clicking .